TABLE OF CONTENTS
LLW Welcomes New Attorney James M. Woods
Lewis, Longman & Walker, P.A. is pleased to announce James M. Woods ("Jamie") has joined the firm's West Palm Beach office as an Associate. Jamie's practice will focus on environmental and land use law.
"We are excited to have Jamie join our firm" said the firm's President and Shareholder Michelle Diffenderfer. "Jamie's experience and knowledge will be a huge benefit to our clients—we appreciate the value he brings to our organization."
Jamie's interest in environmental and land use law began in law school. He served as the President of the Environmental and Land Use Law Society, worked with a local conservation trust in Alachua County, was involved with organizing the Public Interest Environmental Law Conference in 2016, 2017, and 2018, and worked with the UF College of Law Conservation Clinic.
Prior to joining LLW, Jamie was in-house counsel at a large accounting firm where he was involved in all aspects of multinational tax planning for large companies. In addition, Jamie's prior experience includes working for a large law firm practicing estate planning, family office planning, and tax planning for high-net-worth individuals. Jamie also has experience working with conservation easements, private foundations, and 501(c)(3) organizations.
Jamie earned a Bachelor of Arts in History, cum laude, from the University of Florida in 2014 and his Juris Doctor, cum laude, from the University of Florida Levin College of Law in 2018. Jamie also holds an LL.M. in Taxation from UF, and received the CALI Award (Best in Class) in U.S. International Taxation I in 2019. Jamie can be reached at jwoods@llw-law.com or at 561.640.0820. Access his full resume here.
In Florida's Special Districts, Small Government Delivers Big Benefits for Citizens
By: Chris Lyon

Across the state of Florida, citizens rely on a lesser-known form of local government called a "special district" to provide services essential to their health and quality of life—everything from firefighting and hospital care to water management and mosquito control.
In fact, every parcel of land in Florida is covered by at least one of the state's more than 1,700 special districts.
In this year's session of the state legislature, House Speaker Chris Sprowls and other lawmakers have promised a close look at special districts to assess how well they are carrying out their responsibilities.
Based on my experience over the last 17 years working closely with special districts in Florida, I believe this legislative scrutiny will reveal an important success story: that these generally small entities already meet or exceed the standards of efficiency, accountability and transparency expected of good government. Click here to read full article.
LLW Secures Victory in Real Estate Listing Agreement Dispute

An arbitration action was brought against LLW's client, Tuxedo Court, seeking damages related to a claim that Tuxedo Court had breached its listing agreement. LLW's Richard Green successfully defended Tuxedo Court and obtained an award of attorney's fees for his client. Click here to learn more. Richard Green can be reached at rgreen@llw-law.com or at 727-245-0820.
Should You Refinance?

While interest rates remain historically low, they have risen in the short term (the 10-year treasury yield has risen a full point since the beginning of the year). While there are several factors to consider, there are many who would still benefit from refinancing in 2021. LLW attorney Ken Dodge is Board Certified in Real Estate Law and works closely with real estate professionals to assist homeowners in making this determination. If you would like a quick assessment as to whether refinancing would be beneficial for you, Ken Dodge can be reached at kdodge@llw-law.com or at 561-640-0820.
2021 Retirement Legislation Update
By: Glenn E. Thomas, Janice Rustin, and Jim Linn

As the legislative session reaches the midpoint (assuming an on-time adjournment on April 30), little action has been taken on retirement legislation.  One bill progressing in the Senate (SB 84) would make a significant change to the Florida Retirement System.  If it passes, FRS members hired on or after July 1, 2022 would be placed in the Investment Plan (defined contribution plan), with no option to move to the Pension Plan (defined benefit plan).  The bill still lacks a companion in the House, however.  The FRS rate bill (SPB 7018), which is a "must pass" measure as part of the state budget, is on its final committee stop.
Copies of any bill can be viewed at the legislature's website: www.leg.state.fl.us.  Please feel free to contact us if you have any questions.
CS/SB 84 FRS Investment Plan (Rodrigues)
Participants in the Florida Retirement System have two membership options:  the defined benefit "pension plan" or the defined contribution "investment plan."  Members hired on or after January 1, 2018, are initially enrolled in the pension plan and must elect to remain in the pension plan or transfer to the investment plan by the last business day of the eighth month of employment. If they make no election, the employee is transferred to the investment plan. Thereafter, the member has one opportunity, at the employee's discretion, to choose to move from the pension plan to the investment plan or from the investment plan to the pension plan. SB 84 would eliminate the pension plan option for new members.  Members initially enrolled in FRS on or after July 1, 2022 would be compulsory members of the investment plan and would have no opportunity to transfer to the pension plan.  On March 31, SB 84 was amended to exempt Special Risk Class members from compulsory participation in the Investment Plan.
Current law permits employees of universities, public community colleges and other state educational institutions, to withdraw from FRS and participate in one of several optional retirement programs.  Employees who elect to participate in an optional retirement program then have one opportunity—at their discretion—to transfer back to FRS.  SB 84 would still permit those employees, who are hired on or after July 1, 2022, to withdraw from the FRS investment plan and participate in a state optional retirement program; but it would eliminate any opportunity to transfer back to FRS for all optional plan members on or after July 1, 2022, regardless of hire date.
Under Section 121.74, FRS assesses employers 0.06% of the payroll reported for each class or subclass of membership to offset the costs of administering the investment plan and providing educational services to FRS members.  SB 84 would increase the assessment to 0.07% of payroll, effective July 1, 2022.
On March 31 an amendment exempting Special Risk Class members from compulsory participation in the Investment Plan was adopted and CS/SB 84 was approved by the Senate Appropriations Committee – the bill's final committee assignment.  The bill still has no companion in the House.  Click here to read the full article.
LLW's Kasey Lewis Promoted to Government Relations Specialist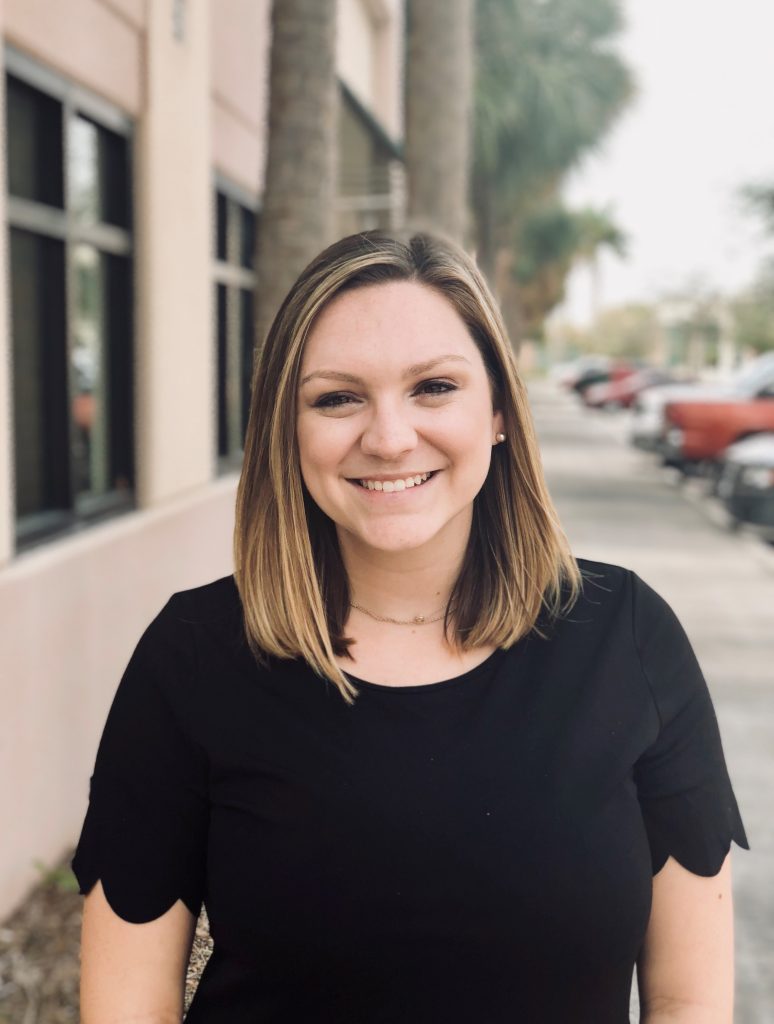 Lewis, Longman & Walker's Kasey Lewis has been promoted to Government Relations Specialist, the first non-attorney lobbyist in the firm's history. As Government Relations Specialist, she assists the Legislative Team in representing clients before the Florida Legislature, as well as tracking and monitoring legislation, amendments, and appropriations relevant to client issues.
Kasey joined LLW in June of 2019 as a Legislative Coordinator and became a registered lobbyist in June 2020. She is also on track to receive her Master of Public Administration and Policy degree from the American University this May. Kasey was named one of INFLUENCE Magazine's Rising Stars of Florida Politics in their Winter 2021 issue, previously known as "30 Under 30."
Kasey previously served as a Legislative Assistant to Representative Matt Willhite, and later to Senator Lori Berman. During her tenure in the House of Representatives, Kasey worked with Willhite on issues relating to Florida's Retirement System, transportation and first responders. A special point of pride was supporting Willhite in the development and passage of legislation to provide worker's compensation benefits to first responders who suffered from job-related Post-Traumatic Stress Disorder (PTSD).
Moving on to Senator Berman's office, Kasey discovered her passion for health care policy and worked as the lead on health care issues for the Senator while Berman served as Vice Chair of the Senate Health Policy Committee. That grounding in the complex world of health care has proven to be invaluable in her current role at LLW, where she has been heavily involved in issues relating to public health, health care delivery and scope of practice.
Kasey is a second-generation Floridian, born and raised in Broward County. Kasey received her Bachelor of Arts degree in Political Science and holds certificates in Public Affairs and Political Campaigning from the University of Florida. While still an undergraduate, she was chosen for an internship sponsored by the Bob Graham Center for Public Service. She can be reached at klewis@llw-law.com or at 850-222-5702.
Robert Angus Williams Certified by Supreme Court of Florida as a Circuit Mediator

Robert Angus Williams, an attorney in the Tallahassee office of Lewis, Longman & Walker, P.A., has recently been certified by the Supreme Court of Florida as a Circuit Mediator.
Prior to joining LLW in 2019, Robert served as General Counsel for the Florida Department of Environmental Protection (FDEP), and before that, as Chief Deputy General Counsel, serving FDEP's Public Lands Section and Defense Section.
Robert has extensive experience in land use and environmental law and has worked in both public and private practice. Prior to FDEP, Robert started his career as a prosecutor in Pinellas and Pasco Counties, and then spent eleven years in a land use private practice in the Tampa Bay Area. Robert then moved to Tallahassee to work in the General Counsel's office of the Florida Department of Agriculture and Consumer Services, also serving as the Clemency Aide for Former Agriculture Commissioner Adam Putnam.
Robert is a Martindale Hubbell AV® Preeminent™ Peer Review Rated attorney. He is a member of the Florida Fruit and Vegetable Association, the American Agricultural Law Association and the Tallahassee Tiger Bay Club.  He is the former President of the Board of Directors of the Florida 4-H Foundation, former Alumni Coordination Chair of the University of Florida Alpha Gamma Rho Fraternity, and the former Alumni Advisor for the Florida Southern College Colony Chapter of the University of Florida Alpha Gamma Rho Fraternity.  He is currently Co-Chair of the Association of Florida Community Developers Environmental and Water Task Force.
Robert was raised on a small farm in Imperial Polk County. He received his Juris Doctor from Stetson University College of Law.  Robert earned a Bachelor of Science degree in Food and Resource Economics from the College of Agriculture at the University of Florida.  He can be reached at rwilliams@llw-law.com or at (850) 692-5153.
Frederick L. Aschauer, Jr. Appointed Chair of LLW's Transportation & Infrastructure Practice Group

LLW Shareholder Frederick L. Aschauer, Jr. was recently appointed Chair of Lewis, Longman & Walker's Transportation and Infrastructure Practice Group. LLW has over 25 years of experience assisting Florida's deep-water ports, airports and transportation agencies, all of which are so vitally critical to the State of Florida.
Mr. Aschauer has extensive experience representing clients on matters related to transportation and infrastructure, litigation and environmental regulation. Prior to joining LLW in 2017, Fred served as General Counsel for the Florida Department of Environmental Protection (FDEP), and prior to that, as FDEP's Director of the Division of Water Resource Management. Since joining LLW, Fred has focused his practice on the litigation of complex federal and administrative environmental permit challenges, environmental permitting, defending clients in enforcement actions brought by environmental regulatory agencies, and the legal issues associated with the remediation of contaminated property. Fred is a Martindale Hubbell AV® Preeminent™ Peer Review Rated attorney. He is included in the Best Lawyers in America publication in the area of Natural Resources Law and has been named a Florida Trend Legal Elite in the area of Environmental and Land Use Law and in Government and Non-Profit Law. He can be reached at faschauer@llw-law.com or at (850) 222-5702.
LLW Promotes Jeffrey C. Boes to Chief Information Officer

Lewis, Longman & Walker, P.A. is pleased to announce the promotion of Jeffrey C. Boes to Chief Information Officer.
Jeffrey ("Jeff") recently celebrated his 12th year with LLW on March 23rd. When asked about what he finds most rewarding about his career choice, he answers without hesitation, "I like helping others become more efficient with technology—which allows them to be the best at what they do."
In March of 2020, Jeff quickly and seamlessly transitioned every single LLW employee across the state to work from home as a result of the COVID-19 pandemic.
Jeff says of the experience, "LLW has always been ahead of the curve to invest in technology. It's one of the reasons why the transition to at-home work went so smoothly."
Prior to joining LLW, Jeff worked for an IT consulting firm, providing his IT skills to support companies that didn't have their own in-house IT Department.
Jeff's interest in information technology began when he was young. He was always interested in electronics and gadgets and how they worked, and even had his very own Commodore VIC-20 computer. After attending the University of Evansville in Evansville, Indiana, he earned various IT certifications while also working full-time at a computer repair shop.
Jeff is a member of the International Legal Technology Association (ILTA). He can be reached at jboes@llw-law.com or at 561.640.0820.
Riparian Rights in Florida Update
Attorneys Andrew Baumann, Kevin Hennessy, and Richard Green present LLW's second Riparian Rights in Florida Update featuring a discussion of whether a property owner has (or does not have) riparian rights and an overview of how riparian lines are drawn.  The attorneys utilize various Florida cases to highlight the nuances in riparian rights law.  For questions concerning the cases discussed in the Update or any other questions regarding riparian rights, please contact Andrew Baumann at abaumann@llw-law.com, Kevin Hennessy at khennessy@llw-law.com or Richard Green at rgreen@llw-law.com.
Firm News
LLW was ranked in the Jacksonville Business Journal's "Law Firms 2021" list.  The list ranks law firms by total attorneys in the Jacksonville area. The list also ranks by other factors including local employment, local AV-rated attorneys, company-wide employment, and year founded locally.  Click here to view the full list.
LLW was a proud sponsor of the Baskets 4 Babies event.  Proceeds from the event hosted by Healthy Mothers Healthy Babies of Palm Beach County support the organization's mission to improve birth outcomes and promote healthy families by providing access to care, education and support to those facing the physical, emotional, economic and social challenges of pregnancy and infant care. https://www.hmhbpbc.org/
LLW attorney Robert Angus Williams participated in the Florida 4-H Virtual Alumni & Friends Celebration on March 25, 2021. Proceeds from the event support Florida 4-H by providing resources for programs including statewide leadership programs, outreach, collegiate scholarships, national event delegates, 4-H camping, county public speaking programs and more.
LLW sponsored the Manasota Black Chamber of Commerce Golf Tournament on March 20, 2021 in Bradenton.  LLW attorney Richard Green participated in the event.
LLW was a proud sponsor of the Northeast Florida League of Cities Dinner on March 18, 2021 in Green Cove Springs.
LLW Government Relations Specialist Kasey Lewis was a featured speaker for the University of Florida Bob Graham Center for Public Service "Careers in Public Service" spring series. Kasey discussed what a career in public service is like and her career path. Participants had the opportunity to ask Kasey questions regarding internships, fellowships and job opportunities in the field of public service.
LLW attorneys Michelle Diffenderfer, Alfred Malefatto and Telsula Morgan participated in the 20th Annual Holland Scholarship Virtual Celebration hosted by the F. Malcolm Cunningham Sr. Bar Association on February 26, 2021. LLW was a proud sponsor of this event.
LLW was a proud sponsor of the Urban League of Palm Beach County's Youth Empowerment Celebration on February 25, 2021. Proceeds from the virtual celebration provide scholarships for graduating high school seniors.
LLW attorneys Robert Diffenderfer and Brenna Durden participated in the 2021 State of the Port Address hosted by the Propeller Club of Jacksonville on February 23, 2021.
LLW was a proud sponsor of the Mayor's State of the City address hosted by the Chamber of Commerce of the Palm Beaches on January 28, 2021.  The event featured an address by West Palm Beach Mayor Keith A. James on the city's successes, challenges and opportunities in the wake of sudden, catastrophic impacts to our community from COVID-19.
Michelle Diffenderfer co-chairs the West Palm Beach Mayor's Task Force for Racial and Ethnic Equality with Patrick Franklin, President and CEO of the Urban League of Palm Beach County. On January 24, 2021, Michelle and Patrick encouraged local residents to get involved. Watch the video for more information: https://tinyurl.com/3vanr8ds.
LLW attorney Alfred Malefatto served as moderator for the Central Palm Beach County Chamber of Commerce Virtual Legislative Update on January 22, 2021. The event featured panelists from the Florida Legislature including Sen. Lori Berman, Sen. Tina Polsky, Sen. Bobby Powell, Rep. Omari Hardy, Rep. Rick Roth, Rep. David Silvers, Rep. Kelly Skidmore, Rep. John Snyder and Rep. Matt Willhite.