2019 Fall/Winter Newsletter
TABLE OF CONTENTS
Florida v. Georgia: Can the Supreme Court Finally Resolve this Decades-long Feud over the Right to Water in the ACF Basin?
By: Frederick L. Aschauer, Jr.
The United States Constitution gives states a unique venue to seek redress for alleged harms brought about by another state.[1] Indeed, in surrendering their sovereign powers to pursue diplomatic resolutions against their sister states or, worse, make war against them, the states needed some unique venue to seek a remedy.[2] That venue was before the United States Supreme Court in the form of an original action.
Florida v. Georgia – the Beauty of the Apalachicola Bay
In October, 2013, the State of Florida sought leave to file a bill of complaint in the United States Supreme Court, an original action against the State of Georgia, requesting the "equitable apportionment" of the waters flowing in the Apalachicola-Chattahoochee-Flint River Basin (ACF Basin).[3] "Florida alleged that Georgia's consumption of Flint River water 'reduce[s] the amount of water flowing to the Apalachicola River at all times,' and noted that 'the effects are especially apparent during the low flow summer and fall periods.'"[4] When "the Court is asked to resolve an interstate water dispute raising questions beyond the interpretation of specific language of an interstate compact, the doctrine of equitable apportionment governs [the Court's] inquiry."[5]
The ACF Basin is made up of three river basins – the Chattahoochee, Flint and Apalachicola River Basins. The Chattahoochee River begins in northeastern Georgia, flowing south, at times forming the border between Georgia and Alabama.[6] Ultimately, the Chattahoochee River flows into Lake Seminole at the Georgia-Florida state line.[7] The Flint River begins south of Atlanta and flows through agricultural areas in southwest Georgia before it ends at Lake Seminole.[8] Flowing south from Lake Seminole is the Apalachicola River, which ultimately feeds into Apalachicola Bay.[9]
In his report, the Special Master in this matter described the Apalachicola Bay as a "wide, shallow estuary along the Gulf Coast," and as "one of the largest estuaries in the southeastern United states and … one of the most productive estuaries in the northern hemisphere."[10] One crop that the Apalachicola Bay has produced over the years is oysters. In that regard, "Apalachicola oysters are widely recognized for their quality and have significant commercial value."[11] However, in order to maintain the Apalachicola Bay's health and ability to produce high-quality oysters, a certain amount of fresh water flowing into the bay is necessary. The bay's salinity levels, which directly impact oyster production, are influenced by flows from the Apalachicola River.[12] Indeed, the Special Master noted that river flow "is the primary determinant of salinity in the bay."[13]
The management of the waters in the ACF Basin has been the subject of a decades-long dispute between Florida, Georgia and Alabama.[14] Much of this litigation involved the United States Army Corps of Engineers operation of various dams and reservoirs on the Chattahoochee River. Ultimately determining it was necessary to bring an original action in the United States Supreme Court, Florida filed its claim alleging "it has suffered serious harm to its ecology and economy because of reduced flows in the [Apalachicola] River resulting from Georgia's increasing consumption of water from the [ACF] Basin for municipal, industrial, and agricultural uses."[15] For its remedy, Florida requested "that the Court 'enter a decree equitably apportioning the waters of the ACF Basin.'"[16]
Click here to view the full article.
Cultivating Hemp — What Could Go Wrong; What Could Go Right?
The prospect of hemp cultivation continues to generate significant interest across the Sunshine state. As interest waxes, the state and federal legal framework is undergoing a major transition. Recent changes in federal and state law, along with anticipated changes in administrative rules might just allow hemp cultivation to mature into a commercial crop. The state rules are literally being written while the federal regulatory framework struggles to catch up. At the outset, it is essential to understand that hemp and marijuana are different, but both belong to the Cannabis sativa plant species. The Cannabis sativa plant species in Florida legal parlance is divided into two broad categories: marijuana[i] and hemp[ii] distinguished by the percentage of Tetrahydrocannabinol (THC) produced by the plant. Specifically, the total delta-9 THC concentration on a dry-weight basis is the distinguishing factor between marijuana and hemp. This article focuses on hemp and the developing regulatory framework that will allow legal hemp cultivation. By definition hemp "has a total delta-9 [THC] concentration that does not exceed 0.3 percent on a dry-weight basis."[iii] Generally, hemp plants exceeding the legal THC concentration are "hot" plants and provide government regulators and law enforcement the consternation associated with much of hemp regulation. The global market for hemp has more than 25,000[iv] uses. The return of the "legal" cultivation of Cannabis sativa signals a renewed demand for hemp with the goal of providing a new revenue source for Florida's farmers that have been severely impacted by disease and natural disasters.  This article will provide a brief history of hemp as an agricultural commodity and an overview of the new regulatory structure.  Regardless of the government regulations, the success of hemp as a viable crop in Florida depends on discovering/developing varieties of the Cannabis sativa plant suitable for cultivation along with the development of a market for hemp products.  Click here to view the full article.
Mangroves and Florida Residential Homeowners: Your Rights Under the Mangrove Trimming and Preservation Act
by Seth Behn and Kathryn Rossmell
I. Introduction
II. Importance of Mangroves
III. Riparian Rights
IV. Overview of the MTPA
V. MTPA Detailed Regulations
a. Exemptions
b. General Permits
c. Individual Permits
VI. Conclusion
I. Introduction
The State of Florida has over 8,000 miles of coastline[i], second only to Alaska among U.S. states. The beauty of that waterfront, coupled with a temperate climate and abundant wildlife, has lured tourists and new residents alike, contributing to the state's population growth and popularity as a tourist destination. Many homeowners aspire to live on the coast so they can enjoy the waterfront lifestyle. It would be hard to overstate the value of the coastal environment.
Florida's popularity also generates concerns for the health of the environment. Increased population also means increased pollution, reduced natural habitat, and greater demand for water and recreational access. Florida's legislature and government agencies strive to balance protection for the environment, meeting the needs of its citizens, and maintaining a strong economy.
In 1995, the Florida Legislature sought to balance environmental protection and homeowners rights when it passed the "Mangrove Trimming and Preservation Act," (hereinafter, the "Mangrove Act").[ii] In recognition of the important role mangroves play in Florida's ecology, the Mangrove Act sets out to provide important protections for the trees and limits the ability to trim or remove them. At the same time, the Mangrove Act affirms the rights of waterfront property owners, specifically including the homeowners' "riparian right of view."
This article will help homeowners understand their rights and the regulations concerning any mangroves that exist on, or adjacent to, their property. After a brief description of mangroves and their environmental significance, this article provides an overview of riparian rights and outlines the provisions of the Mangrove Act most critical to Florida's waterfront homeowners.
Click here to read the full article.
Michelle Diffenderfer Sworn in as Vice-Chair of the American Bar Association's Section of Environment, Energy, and Resources
LLW Shareholder and President Michelle Diffenderfer was sworn in as vice-chair of the American Bar Association's Section of Environment, Energy and Resources at the ABA's Annual Meeting in San Francisco on August 10th. Michelle was also recognized for serving as the section's budget officer.

Upcoming Lunch and Learn: Leveraging Community Based Redevelopment Opportunities in Florida Opportunity Zones and Brownfield Areas
LLW is hosting a webinar with Cardno and Madison Street Strategies titled "Leveraging Community Based Redevelopment Opportunities in Florida Opportunity Zones and Brownfield Areas" on Thursday, January 23rd from 11:30am to 1:30pm at our four office locations.  Participants will also have the ability to join the webinar remotely from their desktop computers.  Click here to register.
LLW Receives 2020 Best Law Firms Ranking, Nine LLW Attorneys Recognized as Best Lawyers, Five Are Named Lawyer of the Year
LLW recently received the 2020 "Best Law Firms" Ranking by U.S. News & World Report. The firm's Jacksonville, Tallahassee and West Palm Beach offices received Tier 1 rankings in Environmental Law and Environmental Litigation.  The firm's Jacksonville also received a Tier 1 ranking in Land Use and Zoning Law.
Nine LLW attorneys have been recognized in The Best Lawyers in America© 2020 by U.S. News – Best Lawyers®; five have been named Lawyer of the Year:
Lawyer of the Year
Best Lawyers
Best Lawyers® is the oldest and most respected peer-review publication in the legal profession.   The 2020 edition of The Best Lawyers in America© includes almost 60,000 lawyers covering all 50 states and the District of Columbia and is based on more than 10 million detailed evaluations of lawyers by other lawyers. Best Lawyers® lists are excerpted in a wide range of general interest, business and legal publications worldwide, reaching an audience of more than 17 million readers. For more information, visit http://www.bestlawyers.com/default.aspx.
Kevin Hennessy Accepted into Leadership Pinellas Class of 2020
Kevin Hennessy was recently selected for Leadership Pinellas Class of 2020. The mission of Leadership Pinellas is to develop and enhance community leadership by providing a diverse group of emerging and existing leaders with the opportunity to increase their community knowledge, and perpetuate their service to the community.
Telsula Morgan Appointed to the Literacy Coalition of Palm Beach County Board of Directors
LLW attorney Telsula Morgan was recently appointed to the Board of Directors of the Literacy Coalition of Palm Beach County.  The Literacy Coalition of Palm Beach County is a nonprofit organization that is dedicated to improving the quality of life in the community by promoting and achieving literacy. In Palm Beach County 1 in 7 adults lacks basic literacy skills. Through extensive outreach and collaboration with a network of community partners, the Literacy Coalition strives to ensure that individuals who need to improve their literacy skills receive the help they need. For more information, visit www.literacypbc.org.

LLW News
Bob Diffenderfer has been elected to the Board of Directors of the Forum Club of the Palm Beaches, Florida's largest non-partisan political and public affairs organization. Since 1976 when President Jimmy Carter served as its inaugural speaker, the Forum Club has hosted a majority of the sitting U.S. Supreme Court Justices and a variety of thought leaders whose words and actions affect the world in which we live.
LLW's St. Petersburg office was featured as the Law Firm Spotlight in the recent issue of the St. Pete Bar Association's Paraclete.  Click here to view the article.
LLW participated in the 2019 Palm Beach County Heart Walk on November 16, 2019 in West Palm Beach. Our team raised nearly $1,000 to support the American Heart Association.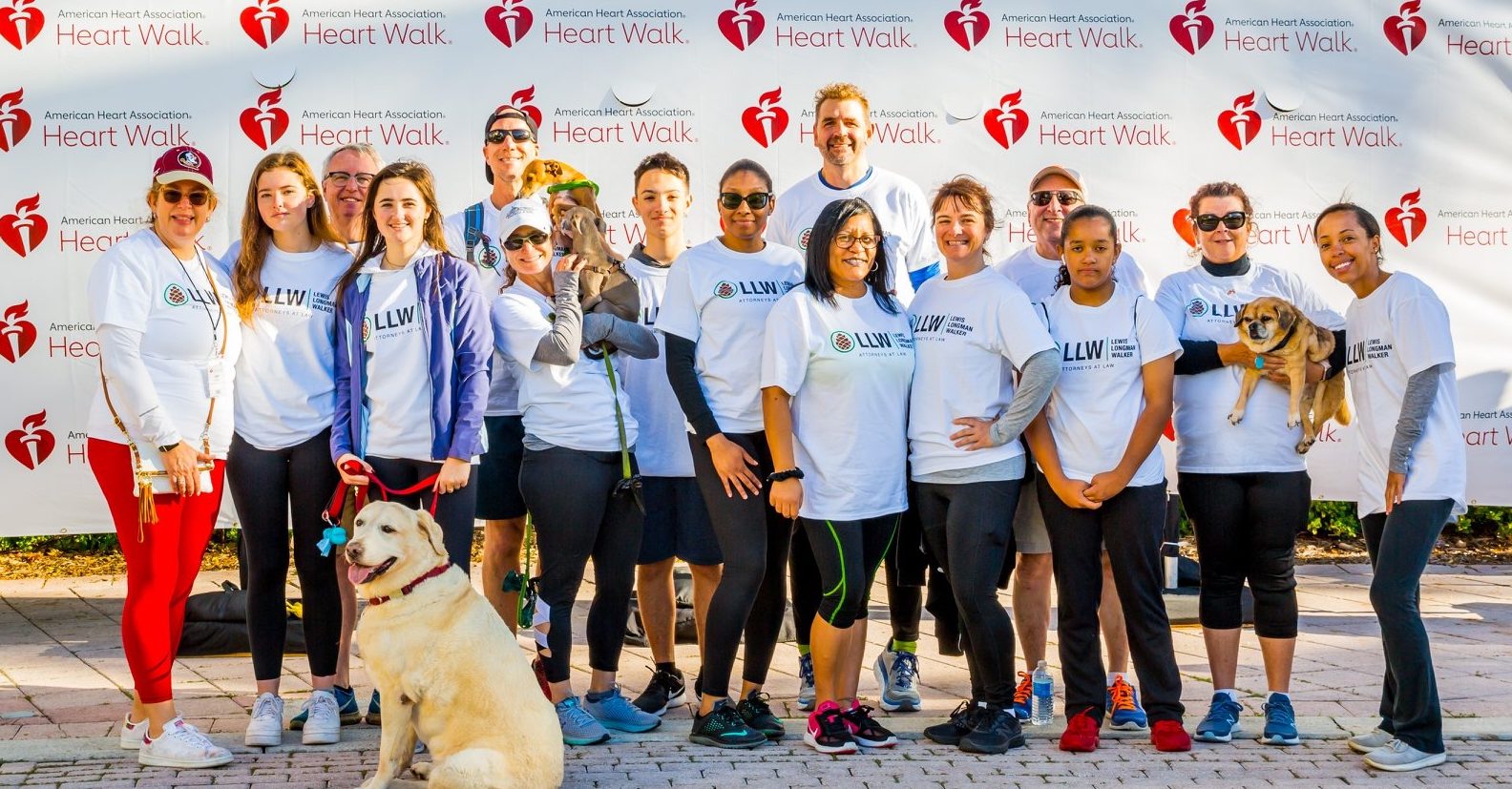 Seth Behn participated in a panel discussion "The Impact of Evolutionary Instincts on Ethical Conflict" at the 13th Annual Ethics Seminar November 1st in Delray Beach. Terry Lewis and Seth Behn also participated in a panel discussion "Constitutional Amendment 12 and the Evolving Ethics Rules". http://events.r20.constantcontact.com/register/event?llr=5yxwcgdab&oeidk=a07egk7b1117850ede1
Steve Lewis attended the Florida Air and Waste Management Association Conference October 29-30th in Tallahassee. LLW was a proud sponsor. https://www.awma.org/ev_calendar_day.asp?date=10/29/2019&eventid=116
LLW hosted a Lunch & Learn regarding the topic of perfluoroalkyl and polyfluoroalkyl substances (PFAS) October 23rd at all its offices. Joe Applegate and Eric Sager from Geosyntec Consultants provided a detailed overview of the sources, chemistry, environmental fate and transport, exposure, toxicology, and occurrence of PFAS with an emphasis on the state of knowledge regarding the characterization and remediation of PFAS-impacted sites, as well as risk management approaches.
LLW sponsored the Rivers2Nations 9th Annual Great Commission Golf Tournament October 19th in Palm City.  http://rivers2nations.com/golf-tournament.html
Brenna Durden moderated a CRA Legal Workshop at the Florida Redevelopment Association Annual Conference October 18th in Tampa.  https://redevelopment.net/2019-annual-conference/#1563979611164-fe0fabb1-83f1
Janice Rustin and Glenn Thomas gave an update on FRS and other pension developments at the 45th Annual Public Employment Labor Relations Forum October 18th in Orlando. Glenn Thomas served as co-chair of the conference. https://member.floridabar.org/s/lt-event?site=a0a36000003SDujAAG&id=a1R1R0000052etaUAA#Agenda%20&%20Speakers
LLW sponsored the 28th Annual Grand Bee on October 17th in West Palm Beach.  Proceeds from the event supported the Literacy Coalition of Palm Beach County.
Bob Diffenderfer and Fred Aschauer attended the Florida Airports Council State Affairs Legislative Fly-In October 16-17th in Tallahassee.  LLW was a proud sponsor.  https://www.floridaairports.org/meetings-and-events/Meetings?id=163
Chris Lyon participated in a Legislative Toolbox webinar hosted by the Florida Association of Special Districts on October 8th. https://education.fasd.com/index.cfm?pg=semwebCatalog&panel=showLive&seminarid=10456
Seth Behn participated in a panel discussion at the Planning Officials Training Workshop October 4th hosted by the Treasure Coast Section of the Florida American Planning Association. https://florida.planning.org/sections/treasure-coast-section/4th-annual-planning-officials-training-workshop/
LLW sponsored the 9th Annual Wish Upon a Star event October 4th in Tallahassee. Proceeds from the event supported the Children's Home Society of Florida.
LLW sponsored the Northeast Florida Builders Association (NEFBA) Beast Feast October 3rd in Jacksonville.
Robert Williams participated in a panel discussion titled "State of Hemp Industry In Florida 2019 & Beyond" at the 850 Hemp Summit October 2nd in Tallahassee.  LLW was a sponsor of the summit.
LLW and Geosyntec Consultants teamed up to co-host a networking event on September 26th at Top Golf in Jacksonville. The event raised nearly $200 for Making Strides of Clay County.
Robert Williams and Chris Johns attended the Florida Fruit and Vegetable Association Conference September 24-26th in Palm Beach. LLW was a proud sponsor.
LLW sponsored the Chamber of Commerce of the Palm Beaches Athena Awards Luncheon September 20th in West Palm Beach.
LLW attorneys participated in the Northeast Florida Builders Association Government Affairs Clay Shoot September 19th in Jacksonville.
Fred Aschauer attended the Florida Shore and Beach Preservation Association Conference September 18-20th on Hutchinson Island. LLW was a proud sponsor.
Lori Killinger attended the Florida Manufactured Housing Association Annual Conference September 11-12th in Orlando. LLW was a proud sponsor.
Bill Capko attended the National Association of Bond Lawyers Workshop September 11-13th in Chicago.
Michelle Diffenderfer and Al Malefatto attended the American Bar Association Section of Environment, Energy and Resources Fall Conference September 11-14th in Boston. LLW was a proud sponsor.
 Fred Aschauer and Bob Diffenderfer attended the Florida Ports Council Annual Board Meeting August 29th in Jacksonville. LLW was a proud sponsor.
 Brenna Durden and Fred Aschauer attended the Jacksonville Chamber's Opportunity Zones Conference August 22nd in Jacksonville.
In August, LLW's West Palm Beach office donated over $260 in school supplies to the Palm Beach County Back to School Bash, an organization that supports disadvantaged students by providing supplies, backpacks, information and resources to empower children to begin the school year with confidence.
LLW sponsored the annual Green Cove Springs Police Department Golf Tournament August 9th in Fleming Island.
Amy Taylor Petrick and Kathryn Rossmell attended the Florida Airports Council Conference August 4-7th in Ft. Lauderdale.  LLW was a proud sponsor.
[1] "In all Cases affecting Ambassadors, other public Ministers and Consuls, and those in which a state shall be Party, the supreme Court shall have original Jurisdiction." U.S. Const. art. III, § 2, cl. 2. (emphasis supplied)
[2] State of Missouri v. state of Illinois, 180 U.S. 208, 241, 21 S. Ct. 331, 344, 45 L. Ed. 497 (1901)("If Missouri were an independent and sovereign state all must admit that she could seek a remedy by negotiation, and, that failing, by force. Diplomatic powers and the right to make war having been surrendered to the general government, it was to be expected that upon the latter would be devolved the duty of providing a remedy, and that remedy, we think, is found in the constitutional provisions we are considering.").
[3] See United States Supreme Court website at https://www.supremecourt.gov/search.aspx?filename
=/docket/docketfiles/html/public/22o142.html; and see Florida. v. Georgia, 138 S. Ct. 2502, 2510, 201 L. Ed. 2d 871 (2018)("In 2013, Florida, the downstream state, sought to sue Georgia, the upstream state, asking us to exercise our 'original and exclusive jurisdiction' and issue a decree equitably apportioning the waters of the Basin.")
[4] Florida v. Georgia, 138 S. Ct. 2502, 2510, 201 L. Ed. 2d 871 (2018); see also Florida's Complaint for Equitable Apportionment and Injunctive Relief, Pg. 9, ¶ 21. The docket for this case is maintained at https://www.ca10.uscourts.gov/special-master-142 and documents from the Docket, with the exception of the Special Master's Report and the Supreme Court's opinion in this matter, will be cited to as follows: FL v. GA Docket, Pleading, Pg. #.
[5] Id. at 2513, citing See Colorado v. New Mexico, 459 U.S. 176, 183, 103 S.Ct. 539, 74 L.Ed.2d 348 (1982) (Colorado I ) and Virginia v. Maryland, 540 U.S. 56, 74, n. 9, 124 S.Ct. 598, 157 L.Ed.2d 461 (2003).
[6] Special Master's Report, pg. 4. While the Special Master's Report may be found at the online docket, due to the focus placed on it herein, the Special Master's Report shall be cited as "Report, Pg. #".
[7] Report, Pg. 4.
[8] Id. at 5.
[10] Id. at Pg. 8.
[11] Id. at Pg. 9.
[14] Id. at 10.
[15] Id. at 14.
[16] Id. at 16.
[i] Art. 10, § 29, Florida Constitution
[ii] Hemp can be divided into two sub-categories "hemp" § 581.217, Florida Statutes and "industrial hemp" §1004.4473, Florida Statutes. Referenced by §893.02(3), Florida Statutes. The only discernable difference is that "industrial hemp" was sanctioned as part of a pilot project to allow Universities to conduct research for commercial hemp production.
[iii]Section 581.217(3)(d), Florida Statutes, Chapter 2019-132, Section 2, Laws of Florida
[i] Fla. Stat. § 253.141(1) (2018).